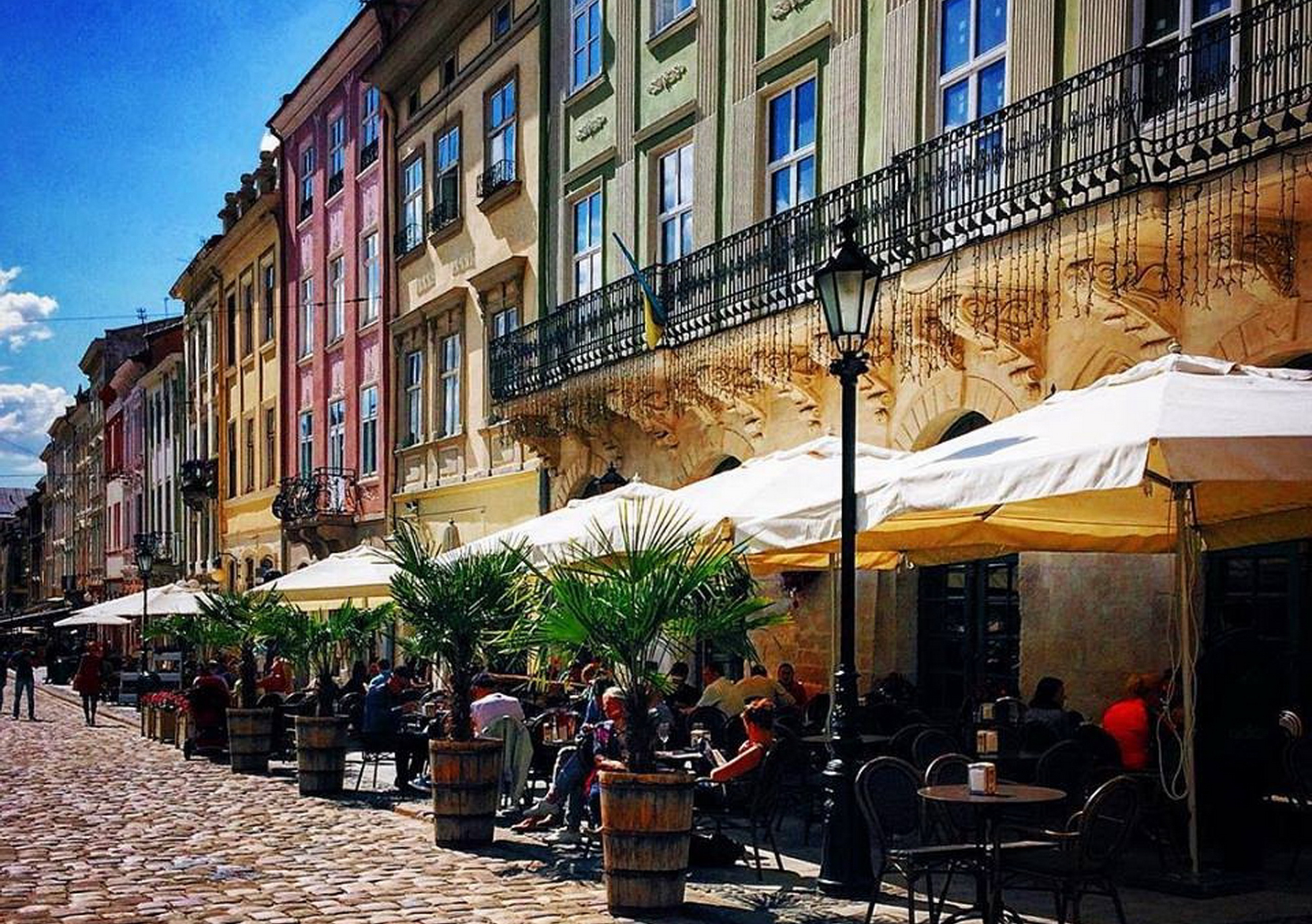 Ukrainian city of Lviv is no doubt one of the most charming and yet not well-known parts of Ukraine. It's been recently gaining plenty of attention from the world, and was proudly featured on BBC and EuroNews. City's impressive architecture, absense of large tourist crowds and unique combination of rustiness and timelessness bring out a very special charm, capturing the hearts of everyone who's ever visited it. Are you planning a tour to Lviv? Or already arrived here and are simply looking for a place to start from? Early we wrote about 10 things to do in Lviv under 10 euros. For the perfect vacation in Lviv, check out our new extensive compiled selection of 30 top things to do in Lviv!
#1 – WALK AROUND RYNOK SQUARE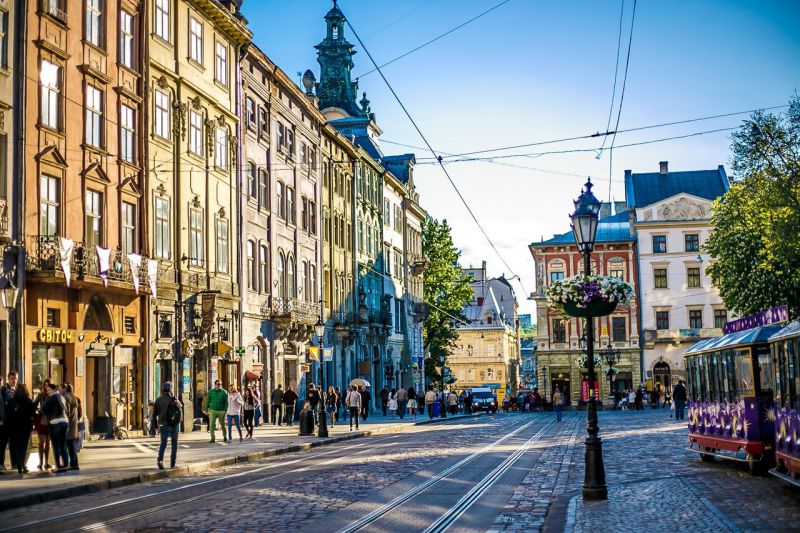 Your first stop in Lviv will inevitably lead you to the heart of the city – Rynok Square, that can be translated as Market Square. For the past 500 years it has been the bustling center of city life and till now retains all the charm of the old European city, without the pretentions of its more famous neighbors – Prague and Krakow.
The Square has the traditional City Town Hall, built in 19th century, and is surrounded by 44 houses, representing art and architecture from many centuries (16th – 20th century). Many of the houses are still used primarly as living headquarters, though few have become museums, art galleries and coffee shops.
In 1998 all of the Rynok Square has been recognized as UNESCO World Heritage site, and dare we say – rightfully so! Also, Rynok Square is one of the the most romantic places in Ukraine.
Where to find: in the very city center, hard to miss!

When to visit: any time

How much to pay: for FREE
2. Climb City Town Hall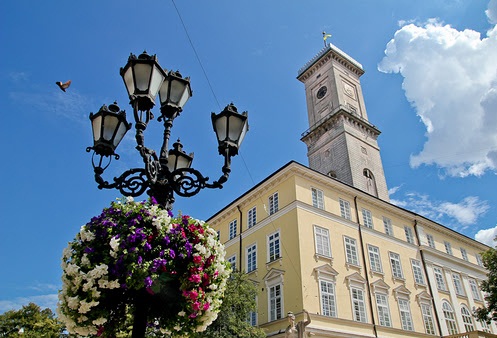 This Lviv Town Hall does not seem that tall, but wait – till you start climbing it!
How about spending 15 min counting up all the steps in Lviv Town Hall? Getting to its top is one of the most fun things to do in Lviv! We won't break the secret to you, but will hint that the staircase has more than 300, but less than 500 steps. As they wind up to the tiny round tube at the top of the tower, the counting is even more interesting!
The first Town Hall in Lviv was built in 1381, however, it was rebuilt many times, and once was completely burnt down during the big fire in 17th century. Current building dates back to 19th century and offers one of the best aerial views of the city!
Make sure not to miss the internal view of impressive Tower clock, that was made in Vienna in 1852 and till now announces the time to Lviv residents.
Where to find: right in the middle of the Market Square (hard to miss!)

When to visit: Tuesday – Friday from 10 am till 5 pm, Saturday – Sunday from 11 am till 7 pm. It is closed on Mondays.

How much to pay: 5 UAH, which is 0.5 EURO
3. Take a photo with Neptun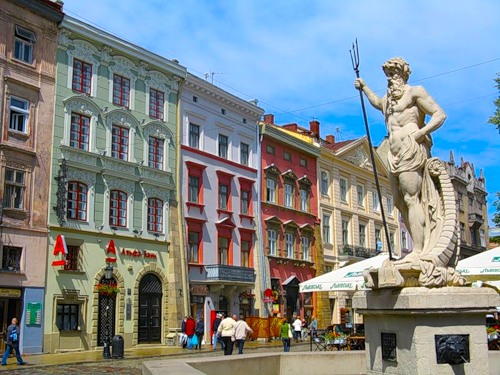 Four fountain statues – make sure to find the ultimate meeting point under one of them
Even though Lviv Rynok Square has a total of four fountains at each side – Diana, Neptune, Adonise and Amphitrite, local Lviv residents give their special love to Neptune. 'Where shall we meet?' – 'At Neptune!' is a typical phrase in conversations of Lviv university students.  Whenever you come to the fountain, expect to see bunches and crowds of young people and elderly all ready for their afternoon rendezvouz. If you visit Lviv during one of its summer festivals or major city celebrations, make sure to take a photo with the dressed-up Neptune! By the way, the most popular summer festivals in Ukraine is Zakhid fest.
Where to find: at the Rynok Square, hard to miss!

When to visit: anytime of the year

How much to pay: for FREE
4. Sit for a romantic cup of coffee in the yard of Lviv History Museum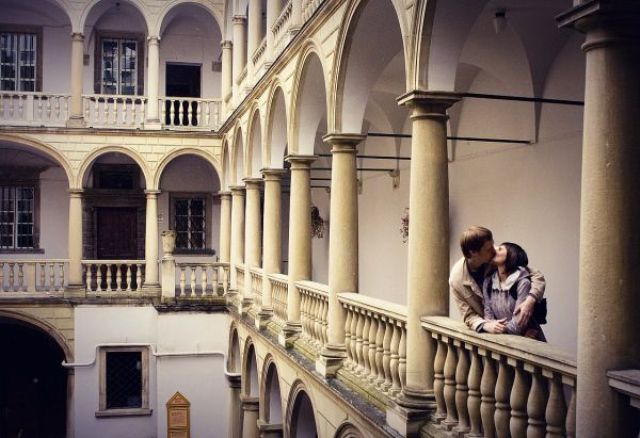 City's most romantic spot!
The charming building to the right of Lviv Town Hall hosts the main branch of Lviv History Museum. Founded in 19th century, it is one of the oldest and most impressive city museums. It currently hosts over 300,000 artifacts, spread out among the four architectural monuments, all dating from 16-18th century. Korniakt Palace – museum's main building – was a former residence of Jakub Sobieski, the father of Polish king Jan III. Interesting things to check out: jewelry from European countries, signs of military honor and portraits of Ukrainian Hetmans (Cossack leaders), and first printed books in Ukraine by Ivan Fedorov among others.
However, Lviv History Museum is most popular for its cozy yard and coffee shop. Delicious coffee, combined with some classical music performance – and you are sitting in probably one of the most romantic places in the city!
Where to find: Rynok sq., 6

When to visit: 10:00 – 20:00, all the week,  on Sat-Sun cafe has live music from 16.00 till 18.00, including jazz concerts and classical music performances

How much to pay: 10 UAH for a cup of coffee, plus 2 UAH for museum entrance ticket. Credit cards are not accepted here. We strongly recommend to make reservations ahead, as the place is busy on weekends.
5. Visit Dzyga Art Gallery
Lviv's go to place for modern art
This hot spot for cultural events in the city is no doubt the heart of intellectual Lviv. Founded in 1997 by members of Lviv Students Brotherhood and city's artists, the gallery regularly hosts works by contemporary artists, including paintings, graphics, sculptures, installations, iconography, and performances. For those who want to combine the art and a good cup of coffee, a small cozy cafe is opened at the gallery premises. Don't miss out on its delicious Carpathian tea!
Where to find: Virmenska st., 35

When to visit: Mon-Sun 10:00-22:00

How much to pay: for FREE
6. Choose your favorite coffee in Svit Kavy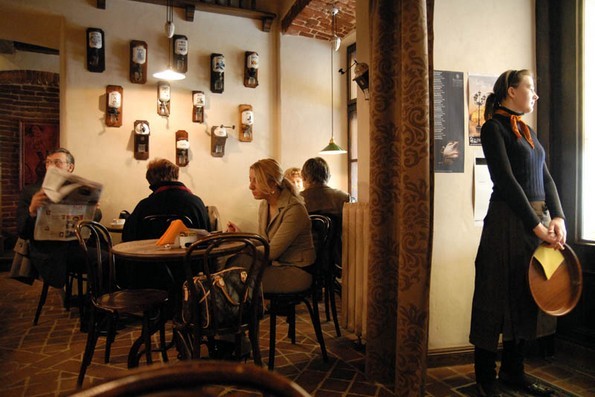 What's your favorite type of coffee? You got more than 30 options to choose from!
If you are looking for locals' all-favorite place to sit around and watch the life pass by, go straight to the charming little coffee shop right opposite to the Boim's Chapel and Latin Cathedral. Svit Kavy or the World of Coffee is famous for its beautiful interior, lovely summer terrace and, of course, more than 30 varieties of coffee to taste! Deliciously brewed, it will take you to the core of what Lviv is all about. Order up traditional Lviv cheesecake and you can call yourself the real Lviv-er.
Where to find: Katedral'na Sq. 6, between Amadeus Restaurant and Cafe1.  Svit Kavy also has a souvenir-shop that sells coffee-themed souvenirs and coffee beans; look for it to the left of the café's main entrance

When to visit: Mon – Fri: 8 a.m. to 8 p.m.; Sat, Sun: 9 a.m. – 11 p.m. The best time is the end of September during traditional Coffee Festival

How much to pay: starting from 3 EURO and up
7. Listen to street musicians in the city center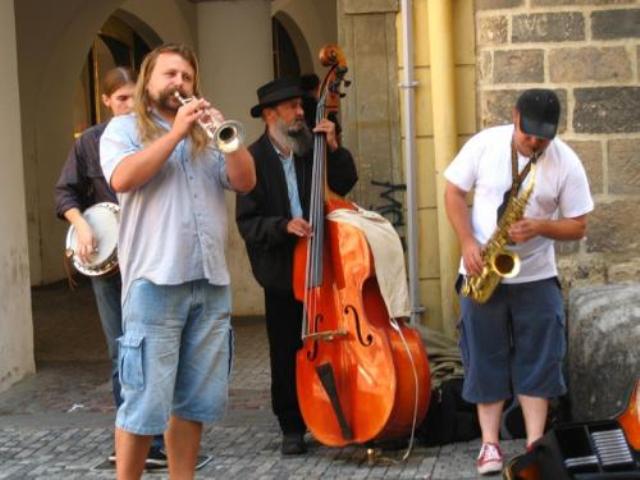 Jazz up your stay in Lviv
As soon as the weather gets a bit warmer, Lviv streets start bustling with musicians, live bands and performers. They add a special charm to the city and let you enjoy lively music while sitting on the benches of City Rynok Square. Don't be surprised if locals suddenly get up and start dancing. Join them in their fiery jives!
Where to find: pretty much everywhere around the city center. However, most popular spots are Halytska street and Serbska street

When to visit: throughout the week, but more so – on weekends

How much to pay: for FREE
8. Smile at the Monument to a Smile
One of the many quirky monuments in the city
This small 1 meter monument, right outside of Art Gallery Dzyga, is bound to put a smile on your face. The so-called Monument to a Smile is an on-going exposition of Oleg Dergachov, Lviv's caricature maker. According to the author, the monument is supposed to be a live thing, and thus will be changed every now and then. Since its installation in 2000, it already underwent alterations in 2008. Make sure to take a photo with the current version!
Where to find: Virmenska st., 35

When to visit: on your way to Dzyga Art Gallery

How much to pay: for FREE
9. Listen to the legends of Lviv houses and yards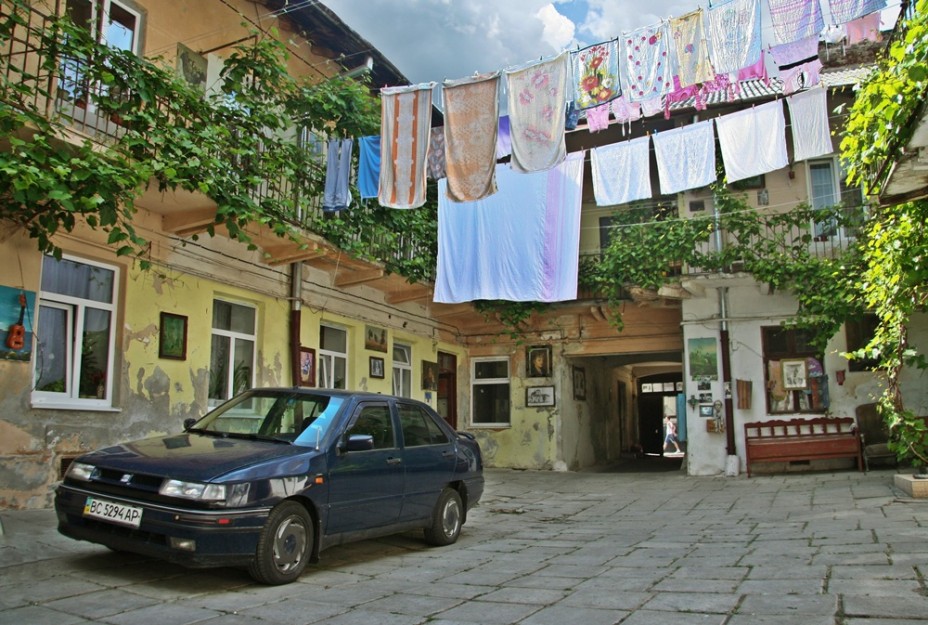 What story is hiding behind these walls? Find out in our Lviv City Tour
Winding streets, little tucked-away alleys, charming squares, curious monuments – all have their special stories. Wedding of rich doctor's daughter and poor peasant, scary legends of flying coffins under the city's town hall, supposedly secret passages between city's main monasteries – you won't ever get bored! No guidebook will ever tell you the quirky details of Lviv's past. Join Lviv tour and get to know the city beyond the walls.
Where to find: Email us and request your Lviv tour

When to visit: Anytime of the year

How much to pay: Email us for an exact quote (depending on the group size)
10. Buy handmade chocolate at the Lviv Chocolate Workshop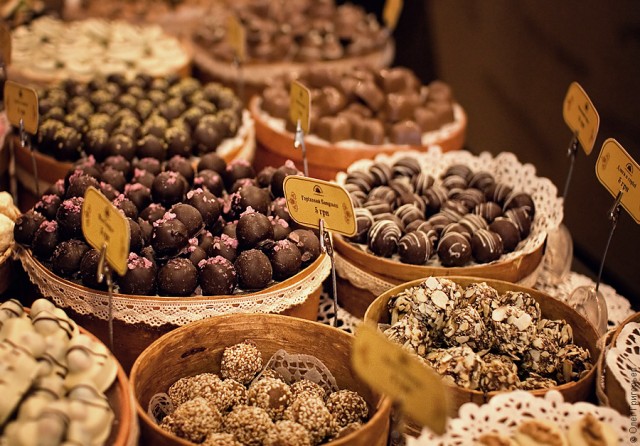 Make sure to come back from Lviv with these delicious souvenirs or other 
No one has the heart to pass by this tiny shop and its large glass window, stocked with rows of delicious tempting chocolate.  Right off the Rynok square, it's a must visit place for anyone with sweet tooth. Or – what the heck – simply anyone! While the first floor hosts a lovely cafe, the biggest attraction of the place – the chocolate shop – is up the narrow winding stairs. The shop features plenty of chocolate souvenirs – truffles, bars and figures of famous buildings. All the chocolate is handmade, straight from the factory, and packaged in beautiful wrapping. One perfect souvenir of  the best authentic souvenirs from Ukraine.
Where to find: Serbska st., 3

When to visit: Anytime of the year, 9 a.m. – 23.00. However, best time for chocolate tasting is during city's Chocolate Festival (first week of February)

How much to pay: 5-10 EURO at a coffee shop, 10-15 EURO at the gift shop (credit cards are accepted only at the gift shop)
11. Get in touch with your spiritual side at the Armenian Church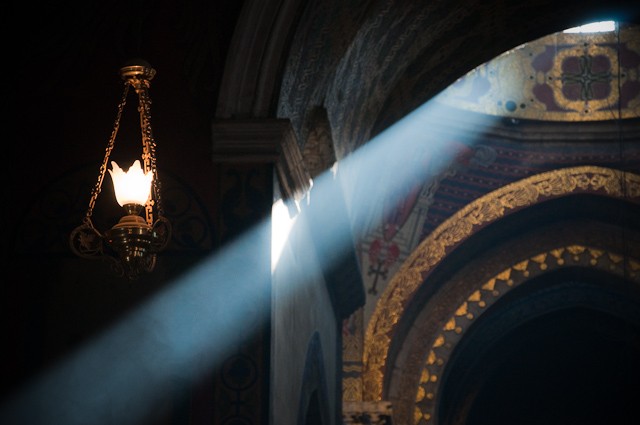 One of the oldest and most gorgeous churches in the city
The Armenian Cathedral is a top must-see place in Lviv. Built in 14th century by an Armenian merchant, it is one of the oldest buildings in the city. It's believed that the cathedral was modeled after the Cathedral of Ani in Armenia's ancient capital. Even if you are not Christian, the heavenly sounds of hymns on Sundays and beautiful 20th centruy frescoes by Jan Henryk Rosen fill the place with the much-needed tranquility and spirituality, in the midst of busy and bustling city.
Where to find: Virmenska st., 7

When to visit: Cathedral is opened from 10:00 to 5:30 pm. To listen to the stunningly beautiful chorals, visit the church at 11:00 am on Sundays.

How much to pay: free, photo and video are available for a small fee
12. Play chess with locals in front of the Opera House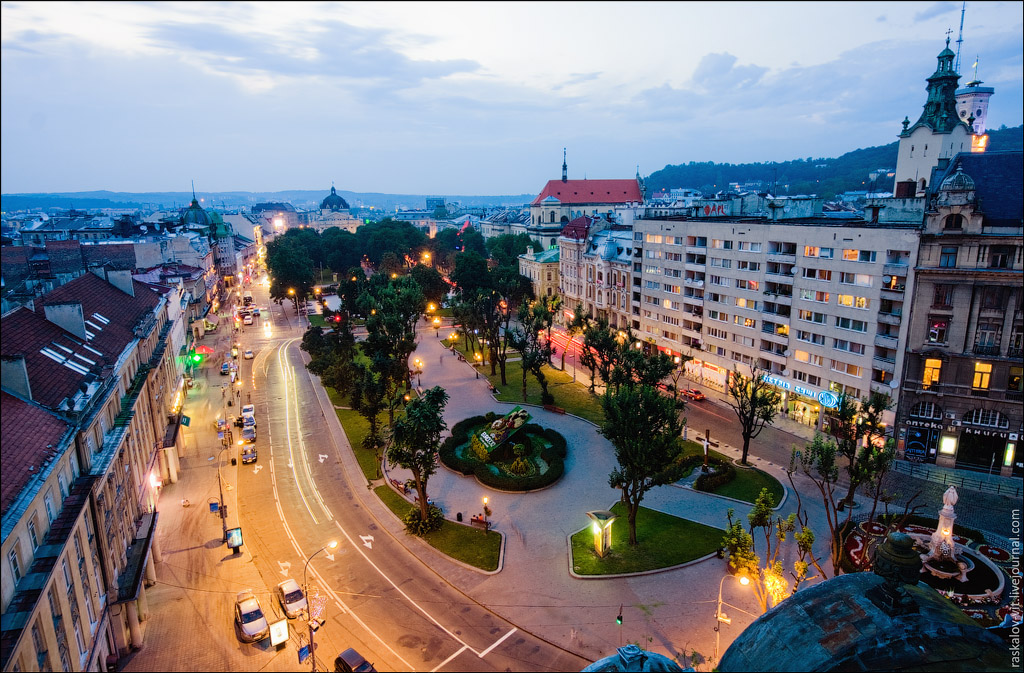 Beautiful Svobody Avenue
Challenge your intellect and practice your Ukrainian with fierce chess fans right in front of Lviv Opera Theater. Every Sunday afternoon the avenue is filled with elderly men, scattered around in small groups, playing the oldest game of wits and logic. Such a typical Lviv sight!
Where to find: in front of Lviv Opera House

When to visit: pretty much every sunny day, but more so on Saturdays and Sundays

How much to pay: free, though bets are welcome 🙂
13. Enjoy performances at Lviv Opera Theater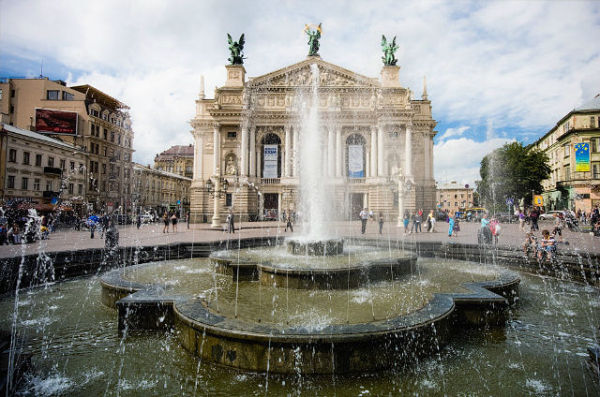 Fountains in front of the Opera Theater
Much can be written about this most famous Lviv landmark. Known as the Grand Theater originally, it is now formally called The Lviv National Academic Theater of Opera and Ballet of Solomiya Krushelnyts'ka, in honor of Ukraine's most well-known female opera singer. The Lviv Opera House was built in 1900 using forms of Renaissance and Baroque architecture. The result is one of the most beautiful opera houses in Europe with a luxurious interior, including the Mirror Hall and Parnassus Curtain and a stunning facade with ornate sculpture work.  For the curious ones, the Theater stands right at the top of river Poltva, that used to run across the city until some hundred years ago. Reserve your seat to enjoy world-class ballet and opera – from Puccini to Tchaikovsky. Come one hour ahead of your performance and explore the impressive interior of the Opera House in a guided tour (English language tours are available).
Where to find: Svobody ave., 28

When to visit: 11 am – 7 pm, tours are available starting from 5 pm. Alternatively, you can buy an entrance ticket and tour around the theater on your own.

How much to pay: performance tickets cost from 0.5 EURO to 20 EURO, self-guided tour ticket is 1 EURO.
14. Cycle in Lviv parks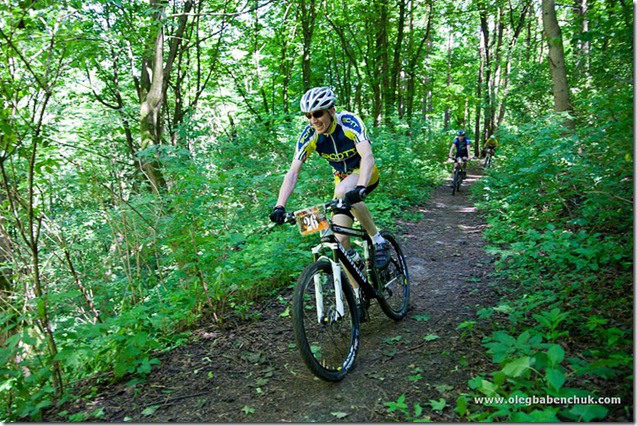 Cycle away at Lviv parks
For those who are looking for some active vacationing, Lviv has plenty to offer as well. While cycling along the main streets is still not that common (though definitely improving, with the addition of cycling lanes), city has a number of parks, that are just perfect for an afternoon getaway. Among most popular ones are Znesinnia (also known as Kaiservald), Stryjsky, Pohulianky, and Zalizni Vody parks.
Znesinnia park is easily accessible from the city center. You can enter it from the High Castle. When you get to the hill, look to your right, and you will find an entrance to the park. Roads there are not paved, so get ready for some rough cycling. With over 312,1 hectares of ravines, hills and forests, park offers plenty of cycling routes.  Combine them with a picnic at the Lysa Hill (Bold Mountain).
Stryjsky park is more well-maintained than the others, and cycling there can be suitable even for smaller kids. Park's entrance is located between the streets Ivan Franko and Stryiska, a mere 15 min walk from the city center. Park is much smaller than Znesinnia, but has a lovely pond with swans, greenhouse, rock garden and linden alley.
Bike rental shops are available throughout the city center.
Where to find: Znesinnia park entrance is located right at the High Castle Hill (Vysoky Zamok). Stryisky park is situated between the Ivan Franko and Stryiska streets. Pohulianky park is a bit further into the outskirts – take a tram #7 and get off at the Pohulianka street.

When to visit: April through September are definitely the best months for cycling in Lviv

How much to pay: renting a bike typically costs 5 EURO per hour (you will be asked to leave your passport, driving license or a substantial sum of money as a deposit for the bike)
Also, explore our FREE ultimate guide on how to take one day bike tour from Lviv to castles.
15. Check out the Old School in Shevchenko Folk Art Open Air Museum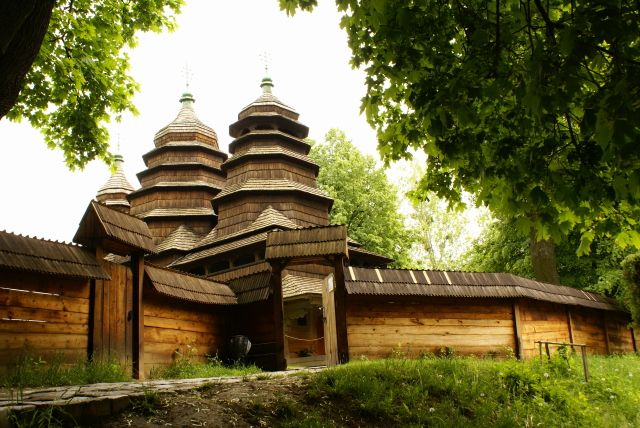 Shevchenkivsky Hai is your first choice for picnic in Lviv
The Museum, also known as Shevchenkivsky Hai (Shevchenko Valley), is probably the best place for relaxation, education and entertainment in Lviv. In a couple of hours you can learn more about lifestyle of Ukrainian villagers through exploring over a 100 of wooden village houses, churches and everyday household items preserved in their original look, take a quiet walk in park alleys covering 84 hectars of woods, and sit down for a fun picnic with your friends. No cafes are available at the park, so even if you plan no picnic, make sure to bring your own snacks.
Where to find: take a tram #2 from Rynok Square and get off at the Mechnikova street (5th stop). Then cross the street and follow the signs. Be ready for a 10 min uphill walk.

When to visit: daily from 9 am to 9 pm

How much to pay: entrance tickets are 1.5 EURO for adults, 0.7 EURO for students. Guided tours are available for 5 EURO per person.
16. Buy local veggies at Stryisky bazaar
Stock up on delicious farm-fresh vegetables, fruits and dairy
If you get tired of all the restaurant delicacies and start longing for a simple piece of home-grown vegetable, look no further than Stryisky bazaar. This is the closest market to the city center, and a decent place to buy farm fresh fruits, vegetables, meat and diary. Haggling is rare, so be ready to pay the price mentioned to you. Top groceries to stock up on: sour cream, wholesome milk, traditionally famous potatoes and home-made jams.
Where to find: end of Shota Rustaveli and Stryiska streets

When to visit: go early in the morning, when the produce is the freshest. Market is open from 9 am till 7 pm

How much to pay: depending on your budget, but you will surely not break a bank!
17. Take bird view photos of Lviv from the High Castle hill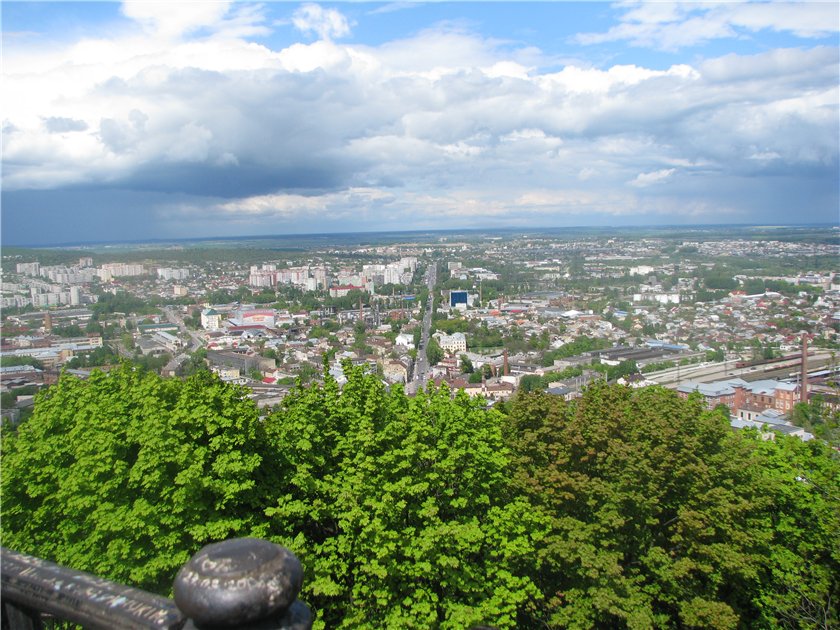 High Castle Hill is the perfect place for an early morning photo shoot
Lviv High Castle can be both a major disappointment and biggest surprise to you! Why disappointment? Because despite its promising name, the place is not that high (unless 413 m is impressive for you) and has no castle whatsoever. Why surprise? Because it offers a quiet refuge from the busy city streets, and it has indubitably the best aerial views of the city! The hill, also known as Vysoky Zamok, used to be a wooden fortress, built in the 13th century by King Lev. The structure was destroyed and then rebuilt again from stone a century late. Castle served as a residence for King's steward and as a prison, but fell apart some hundred years later. Nowadays, only fragments of old walls remind about place's former glory.
Where to find: High Castle (Vysokyi Zamok) is located just outside Lviv's center inside Vysokyi Zamok Park. There are no direct transport links to the park, so wear good shoes and  enjoy the 15-20-minute walk from the center.  Just follow the small brown signs.

When to visit: sunny weather is the best for great bird view of the city

How much to pay: for FREE
18. Listen to organ music in Lviv Organ and Chamber Music Hall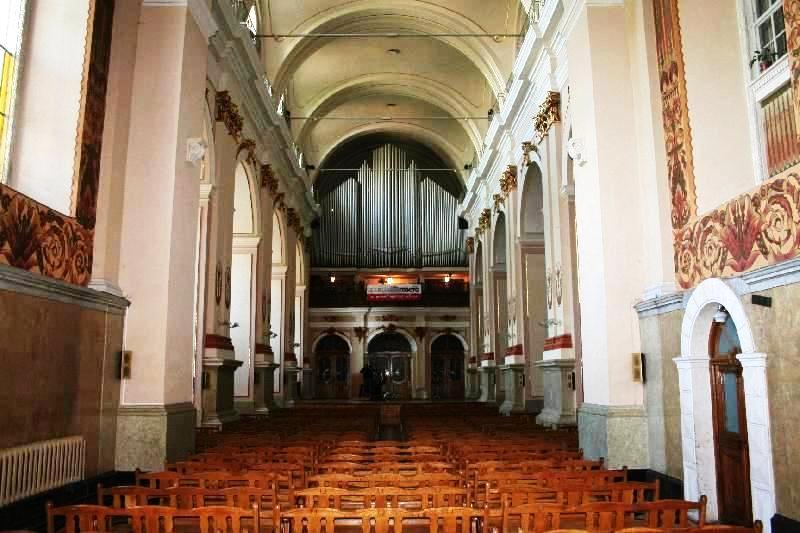 Listen to ancient and chamber music at Lviv Organ and Chamber Music Hall
The building of Lviv Organ and Chamber Music Hall was constructed in 17th century as a church and monastery of St. Magdalena, but started to function as a cultural institution only in 1960ies. Currently the Hall hosts various music performances, Sunday mass for Roman Catholic Church, and yearly Festival of Ancient Music. The music hall's magnificent organ by Czech manufacturer Rieger-Kloss is the largest organ in Ukraine. 
Where to find: 10 Stepana Bandery St., The Organ and Chamber Music Concert Hall is located a bit outside Lviv's center, close to Polytechnic University. It's a 15 to 20-minute walk uphill to reach the concert hall from the center.

When to go:  Saturday and Sunday at 5 pm for organ music concerts, early October – for the Festival of Ancient Music

How much to pay: weekend concerts – 2 Euro, Festival  – 3 Euro
19.  Explore Lviv underground labyrinths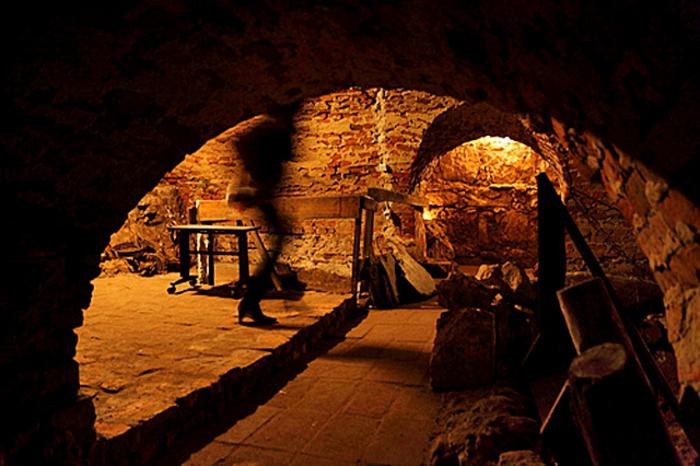 Up for a scary story or two? 
Would you like to check out the 18th century sarcophagus made from a solid stone? Its cover weighs over 600 kg. The object itself is taken apart, but the nature of wreckage indicates that sarcophagus was broken not from the outside, but …from the inside! Eerie, isn't it? To hear the full Black Monk legend, head to the catacombs of St. Peter and Paul Cathedral of Jesuit Order.  For a tour into ancient medicine and treatments, you must check out the underground of Lviv's Pharmacy – Museum. More mysteries await you at the Church of Transfiguration. Its underground halls are by far the largest in the city. Last, but not least, is the basement of Dominican Cathedral. Scientists suggest that the first tier of King Leo palace used to be here once. Nowadays, it's not a royal sight, but a visit down there will take you to monk's cell, hall of torture and will tell you some more spooky legends of underground inhabitants.
Up for a chilling evening in Lviv underground labyrinths?
Where to find: Contact us to arrange for an underground tour of Lviv

When to visit: any time in the day

How much to pay: depending on your group size
20.  Learn about Lviv's tragic Soviet past in 'Prison on Lontskoho street' Museum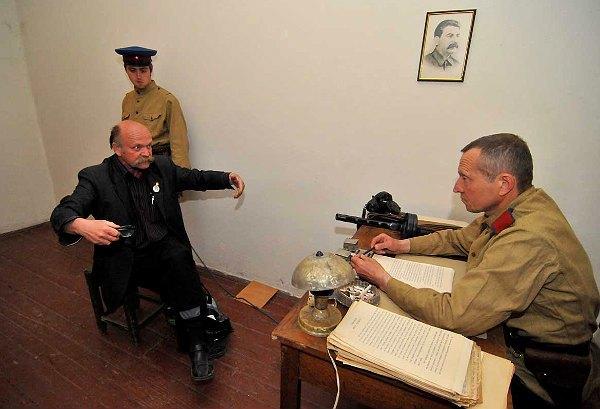 KGB, political prisoners and spies
This small and recently opened museum takes you to the dark times in Lviv history. While traditional USSR propaganda was showing off Soviet life as a combination of prosperity and equality, this was not the case in Lviv, after the city joined the rest of Ukrainian SSR during World War II. The Prison Museum tells you the stories of the building itself, the daily life of prisoners, many of whom were charged with political dissent, and the mass executions that took place in June 1941.
In a short tour you get to see the single prison cell, death row prison cell, investigation room and a one of a kind photo laboratory. Rare film and photo footage makes the history alive with personal accounts of prisoners. Another hall showcases the blatant irony of Soviet propaganda posters and official songs, praising the Party and its leaders.
While the museum is not an easy place to visit, it's a perfect start for those travelers, who would like to know more about the Soviet past of Ukraine and Lviv in particular. 
Where to find: Bandery street, 1 (entrance from Brullova street)

When to visit: Museum is opened daily, from 10 am to 7 pm (lunch break from 2-3 pm). Best time to visit is during May 17-8th, when the city hosts the Night of Museums

How much to pay: Entrance is free. Guided tours are available upon request
21.  Enjoy impressive sculptures of Ukrainian Michelangelo Ioann Pinzel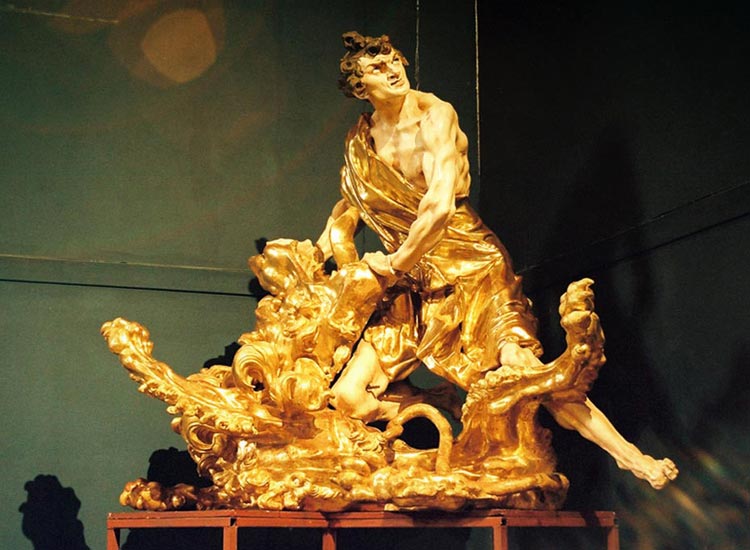 These gorgeous sculptures will surely impress you
10 min away from the Rynok Square stands a beautiful 17th century building – former monastery of Poor Clares. Despite its rather unimpressive exterior, it's home to a great collection of Ukrainian art: sculptures of Ioan Pinzel.  Pinzel is known as Ukraine's Michelangelo and is considered as one of Europe's most talented sculptors of 18th century. The exhibition consists of 32 wooden sculptures, with the famous 'Crucifixion', 'Angel' and 'Samson Tearing the Lion's Mouth'. All works are made of basswood and impress with their perfection and delicacy. The centerpiece of the collection is an awe-inspiring 18th century fresco, located high up in the church's dome.
Where to find: Mytna sqr, 2

When to visit: in summer – from 11 am to 6 pm (ticketing office is opened until 4 pm), in winter – from 10 am to 5 pm (ticketing office is opened until 5 pm), on Sundays – from 12 pm to 5 pm (ticketing office is opened until 4 pm). Closed on Mondays.

How much to pay: entrance tickets – 0.5 euro, guided tour – 3 euro, photography – 3 euro
22. Take photos in the underground Pharmacy Museum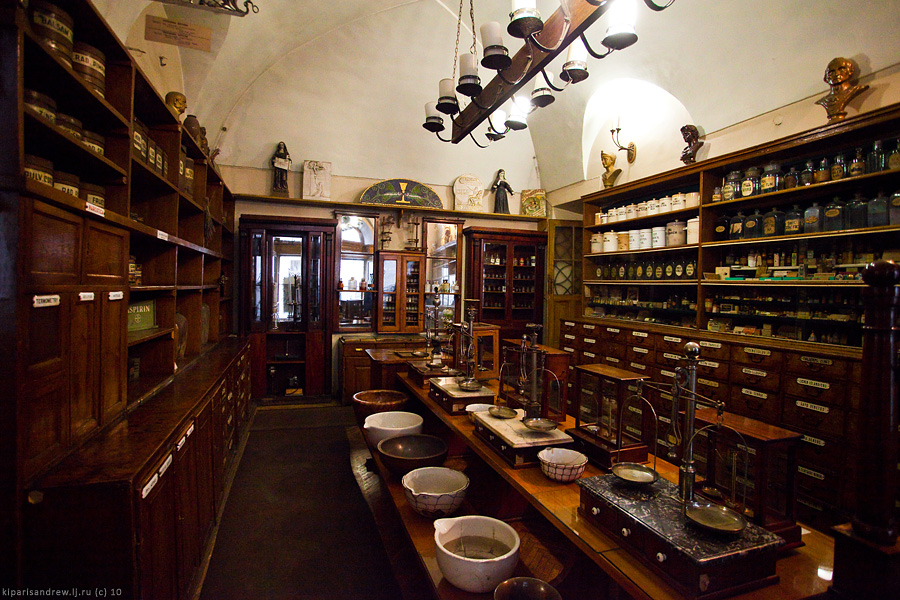 Pharmacy Museum is perfect for visits with children
Even if you are not much into medicine, bottles and middle age cures, you will still enjoy the pharmacy 'Under Eagle' – Lviv's oldest drugstore. Dating back to 1735, it houses a fun and educational museum, with over 2000 items, like pharmaceutical instruments, prescriptions and medicine. Unlike other museums in the city, majority of collection is labeled in English. 16 exhibits span over 700 square meters and include such amusing places as an alchemy lab and pharmacy underground basement. Make sure also to not miss out museums' main treasure – 18th century scales!
Where to find: 2 Drukarska St., right off the Rynok square

When to visit: Mondays through Fridays – from 9 am till 7 pm, on weekend – 10 am till 6 pm

How much to pay: entrance ticket is 0.5 euro
23. Soak in city's past in the impressive Lychakiv Cemetery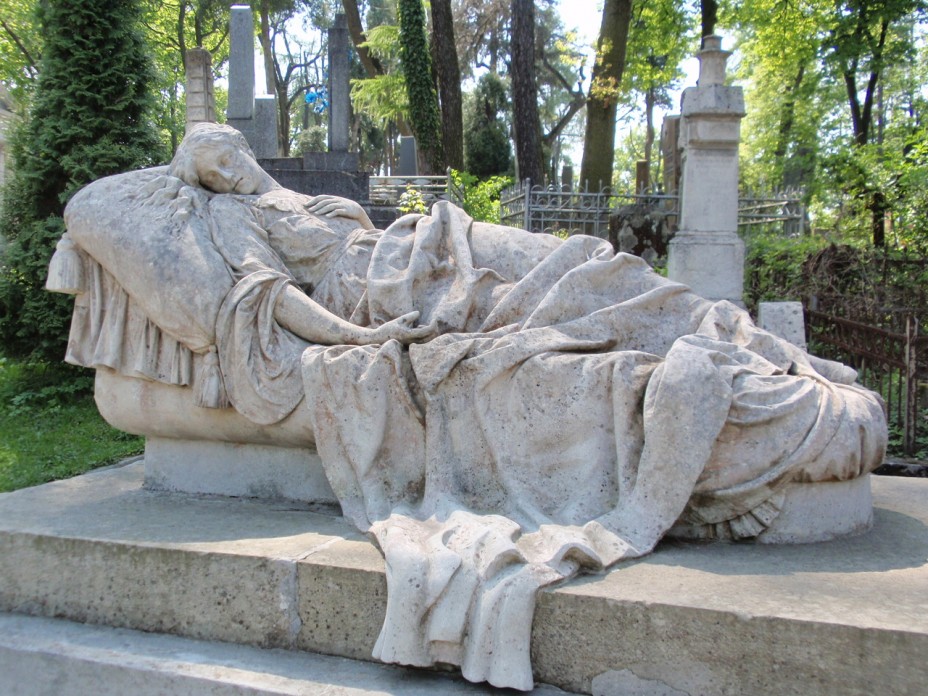 Lonely Planet's No 1 place to visit in Lviv
OK, you probably think that we mis-typed something – no way a cemetery can be one of the city's most exhilarating attractions. But oh well, if Lonely Planet puts it on its 'Must-To' list and passionately names it as '…immense and moving..', then it must have something worth checking!
The famous Town of Dead was built in 1786 and is the last refuge for almost 300,000 people. Among them are renowned Ukrainian poets, artists and politicians. In 18th century the place was re-designed into a solitary park, with beautiful alleys and walks. Add to that 86 fields, over 500 graceful handcrafted sculptures, serene atmosphere and you'll realize that getting bored here is not at option. Cemetery also houses graveyards for soldiers from Red Army, Ukrainian Liberation Army and Polish military troupes from 1918-1920. A walk there is bound to give you an insightful lesson in ever complex Eastern European history.
Where to find: 33, Mechnykova St., Take tram No.7 from Mytna Square near the Pinzel Museum and get off at the fourth stop on Mechnykova Street

When to visit: Lychakiv Cemetery is open daily from 9 a.m. till 6 p.m.

How much to pay: Entrance costs 10 UAH (about 1 EURO), contact us to arrange for a guided tour of the cemetery
24. Join Lviv locals in traditional holiday celebrations for Easter and Christmas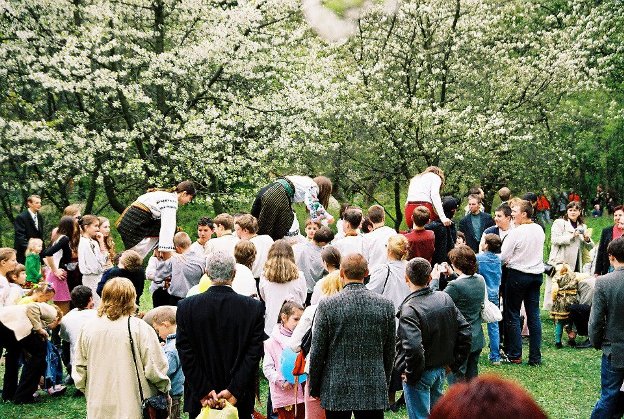 Santa Claus-less Christmas and bunny-less Easter – sounds intriguing? Check out more!
From traditional wedding rituals to the quirky St. Catherine Day, people in Western Ukraine (and Lviv in particular) love their ancient, meaningful and – let's be honest! – at times strange celebrations. And while the likes of St. Valentine and Halloween are growing its popularity, it's the very local and the very Ukrainian holidays that dominate city's festive scene. Some holidays enjoy more public celebrations, like traditional Easter dancing in Shevchenko Folk Art Open Air museum. Some, such as Ivana Kupala or St. Andrew's Day, – are reserved only for the locals, and those few lucky foreigners who get to be a part of them. 
Where to find: Contact us to arrange your Ukraine holiday tour

When to visit: 4-7  May 2013 for Easter, and 6-7 January for Christmas

How much to pay: depending on the group size
24. Participate in local festivals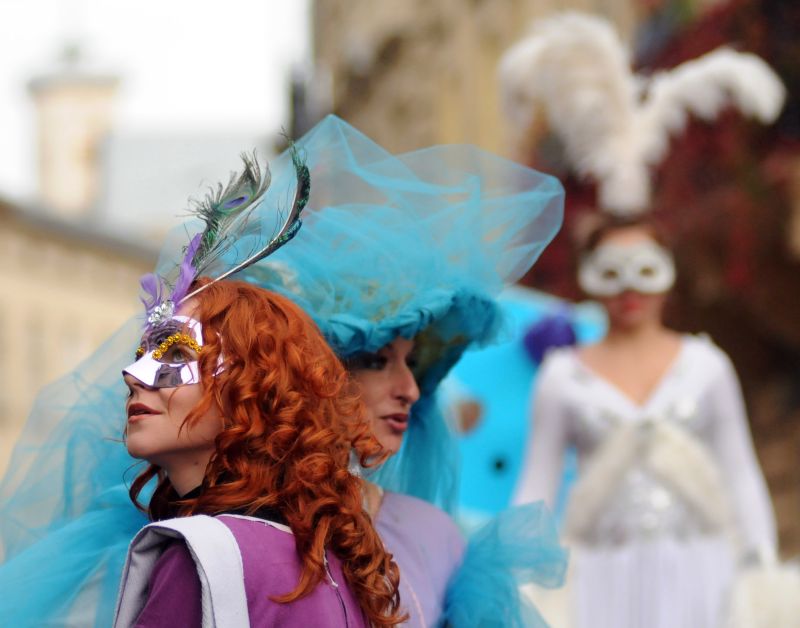 From jazz to classical music, from cycling to international cuisine – Lviv got a festival for every one!
In the past couple of years Lviv has grown to become a true city of festivals. Every month celebrates one or more of the city's virtues. Winter brings out the special Christmas spirit of traditional Ukrainian countryside, and delicious Chocolate Festival. Spring celebrates the Easter Egg (Pysanka) Festival, pleases your taste buds with 'Lviv On a Plate' Gastronomic Festival, jazzes up with Weather-Vanes of Lviv Festival and ends with the crazy row of non-stop festivities in May (Lviv City Day Parade, The Rascal (Batyar) Day, and International Classical Music Festival Virtuosi.
Summer is buzzing with many music festivals, among them the well-known Alfa Jazz Fest, that brings world's most famous jazz musicians to the Lviv stage, Wiz-Art Short Film Festival, and International Folklore Festival Etnovyr. To end the year, the city celebrates Coffee Festival in autumn.
Where to find: traditionally at the city center, other performance places usually include Lviv Opera Theater, Philharmonic, and Shevchenkivsky Hai

When to visit: for the latest schedule check Official City Travel Website

How much to pay: mostly for free, though some events within the festivals might have entrance fees
25. Take photos with Saturday brides at the Shevchenko Monument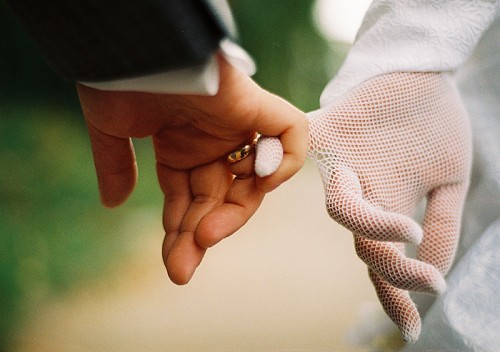 Join Lviv's very local traditions
If you are looking for one of those very special, very local and very traditional moments, Saturday bride-groom photo shoots in front of the Taras Shevchenko monument in the city center is a must. Most newly married couples in Lviv pay their respect to and continue the custom of taking a photo with the statue of Ukraine's most famous poet and writer. Typically, weddings are celebrated on Saturdays, so expect an exciting wedding dress fashion walks in the midst of busy city center!
Where to find: Svoboda Avenue

When to visit: first half of the day on Saturdays

How much to pay: for FREE
26. Dance tango or salsa near café Diana
Show off your dancing skills
Traditional tango/salsa dancing scene in front of the City Town Council is another one of those charming moments, that make you fall in love with Lviv. Whether you are an advanced ballroom dancer, or a humble beginner, join the crowds at Diana's fountain and enjoy the lively atmosphere, as the sun sets down behind the church domes and house roofs.
Where to find: café Diana at the Rynok Square

When to visit: on Saturdays and Sundays after 6 pm

How much to pay: for FREE
27. Go ice-skating at the Rynok Square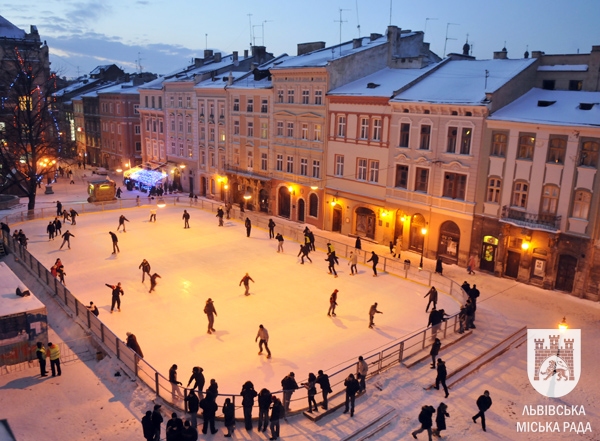 Ice-skating ring in front of the City Tower Hall
If you get bored with endless coffee shops and street walks during Lviv's winter, head off for some action at the city's skating ring. It welcomes skaters starting from December and is an exciting city attraction for visitors of all ages.
Where to find: near City Town Council

When to visit: December – February

How much to pay: 40-50 UAH for skates rental
28. Go climbing to Devil Rocks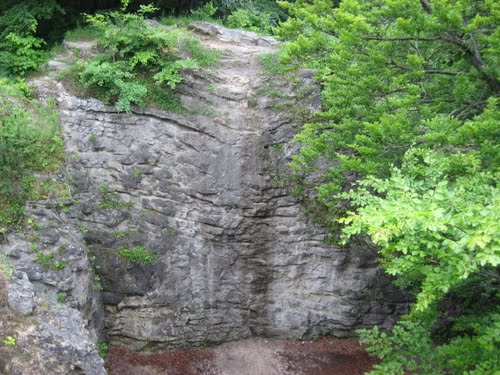 Exciting challenge just few hours outside of Lviv
Climbing the Devil Rocks (414 m) is another adventure to add to your check-list in Lviv. Located in the city outskirts, they are a major attraction in Vynnykivsky Forestry Park. Their name is, of course, related to a local legend, in which the Devil carried a huge rock to destroy the St. Yura's Cathedral in the city, but got crushed under the rocks weight. Getting there on your own is doable, but a bit challenging, especially if you don't know the language. Let us know, if you are interested, and we'll send you the detailed directions!
Where to find: next to Vynnykivske lake, close to Vynnyky town

When to visit: May-October

How much to pay: for free
29. Explore the weaponry collection at Lviv History Museum 'Arsenal'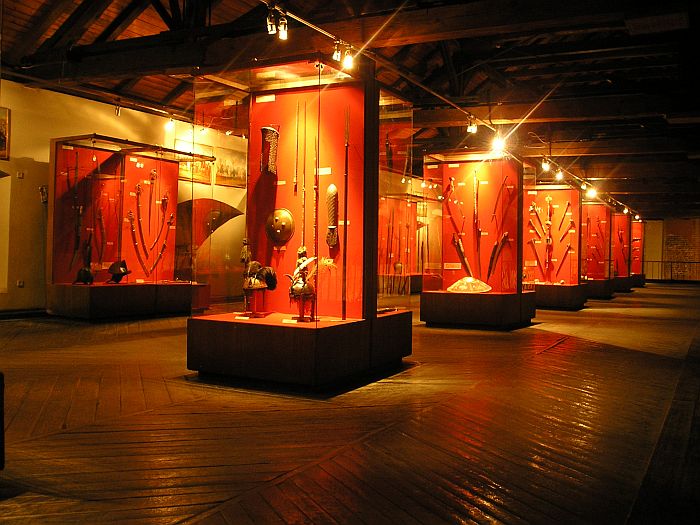 Men will definitely love this one!
Unquestionably, the biggest attraction for any male traveler in Lviv! Museum boasts thousands of weaponry items from more than 30 countries and as old as 10th century. Knives, daggers, swords, sabers, épées, yatagans, axes, halberds, maces, czekans, pernaches, and many other strange names of cold, fire and defensive weapons that will keep your interest throughout all the exhibit. The collection's highlight is Eastern type sword from the 17th century with double blade, the so-called "Zulfakar".
Where to find: Pidvalna st., 5 – close to the town center

When to visit: daily 10:00 – 17:30, except Wednesdays

How much to pay: less than 1 EURO, extra fee is charged for photo and video footage
30. Watch performance of Lviv Les Kurbas Theatre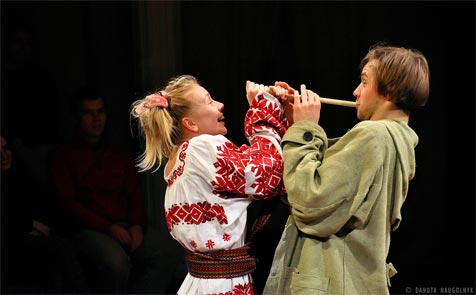 Lviv's most cultured and entertaining venue
You will probably have hard time finding this little tucked-away theater stage. You will probably not understand much, as performances are mainly in Ukrainian. But yet, we are including the Les Kurbas Theater in your top 'to-do' list in Lviv! This charming little drama hall was created in 1988 and represents one of the best modern theater groups in the country. Its expressive and moving performances, colorful costumes, use of voice and movement are truly captivating and will make you sit in awe, despite the language barrier. The theater also performed in Italy, Russia, Poland and USA. Put this highly rated place by fellow travelers on Trip Advisor on your 'must-visit' list and you are bound to spend a couple of hours of your time with '..mouth opened during the whole performace!'.
Where to find: 3, Les Kurbas st.

When to visit: Fridays, Saturdays and Sundays at 19.00

How much to pay: 5-7 EURO, you can book your tickets on the theater's website (in English)
 Have you ever visited Lviv before? What was your most memorable moment? What places would you put on the 'must-see' list? Let us know in the comments below 🙂